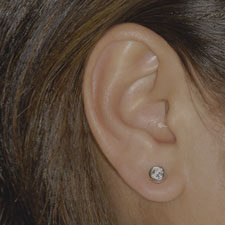 Invisible-in-the-Canal (IIC) and Completely-in-the-Canal (CIC) hearing aids fit within the ear canal making them very difficult to notice. IICs/CICs may be difficult to manipulate for some due to the small size. They are suitable for mild to moderately severe hearing loss.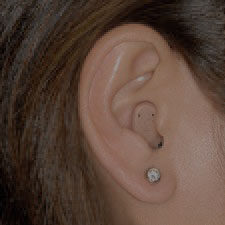 In-the-Canal (ITC) hearing aids are custom-built to fit almost completely within the ear canal, making them less noticeable. ITCs are appropriate for mild to moderately severe hearing loss.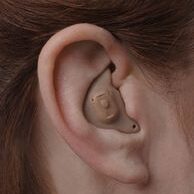 In-the-Ear (ITE) hearing aids are custom-built to fit securely in an individual's outer ear. ITEs are appropriate for mild to severe hearing loss, and are generally stronger and have less feedback than smaller hearing aids.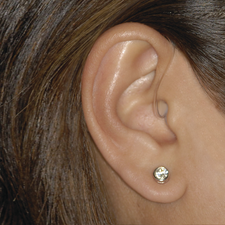 Receiver-in-the-Canal (RIC) hearing aids are designed to leave the ear canal open. These hearing aids are usually small and joined to the ear canal by a wire, making them hard to see. They are most suitable for mild to moderate sensorineural hearing loss.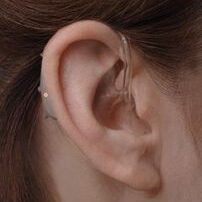 Behind-the-Ear hearing aids rest behind the ear and amplified sound is sent through a tube to an earmold that fits in the ear. BTEs often use larger batteries for longer life and bigger amplifiers for stronger amplification. BTEs are suitable for mild to profound hearing loss.
Hearing Aid Manufacturers

Phonak Introducing Love at first sound with Phonak Audeo™ Paradise, the world's first hearing aids that connect to any Bluetooth Device.
Phonak's Audeo Paradise is the world's first hearing aid that connects and streams from any Bluetooth Device.  The Paradise can connect directly to your iOS or Android smartphone or other Bluetooth® enabled devices and offers hands free calls direct listening to television, music, e-books, podcasts all your meeting platforms. Available with powerful rechargeable technology, Paradise are easy to use, quick to charge and offer a full day of hearing including streaming. Paradise lets you stay connected with reduced listening effort for all your communication needs.

Widex The world's smallest lithium-ion rechargeable hearing aid
Widex MOMENT ™ introduces ultrafast ZeroDelay™ and  Widex PureSound™ to make a real audible difference to hearing aid users letting them hear like they did before in a moment. All of these exciting benefits in the   WIDEX MOMENT™ platform are packaged into the smallest rechargeable lithium-ion receiver-in-canal hearing aid on the market. Users can rest easy knowing they'll always have the power they need in a discreet hearing solution without ever having to struggle with hearing aid batteries.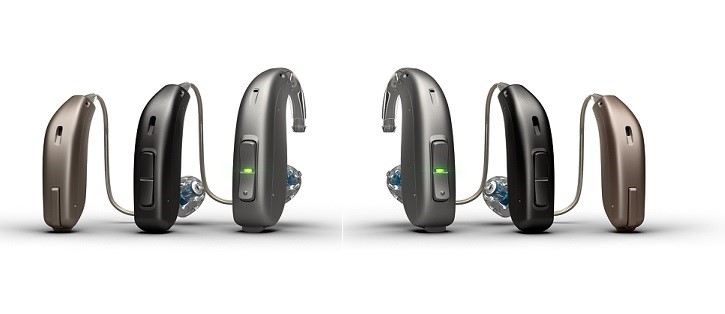 A life-changing technological breakthrough with Oticon More™
Oticon has taken their open sound technology to the next level  in developing this revolutionary More™ hearing aid. Oticon More™ supports the brain by scanning and analyzing a sound scene up to 500 times per second to better understand the sound in your surrounding environment. The full sound scene gives you the ability to focus more easily and improve your understanding of speech to reduce the effort to listen. It features lithium-ion rechargeable technology that gives a full day's power. For iOS and Android users, you can enjoy direct streaming to your Bluetooth® enabled devices with these hearing aids . Oticon More™ is available in receiver-in-the-canal with attractive colors and different technology levels.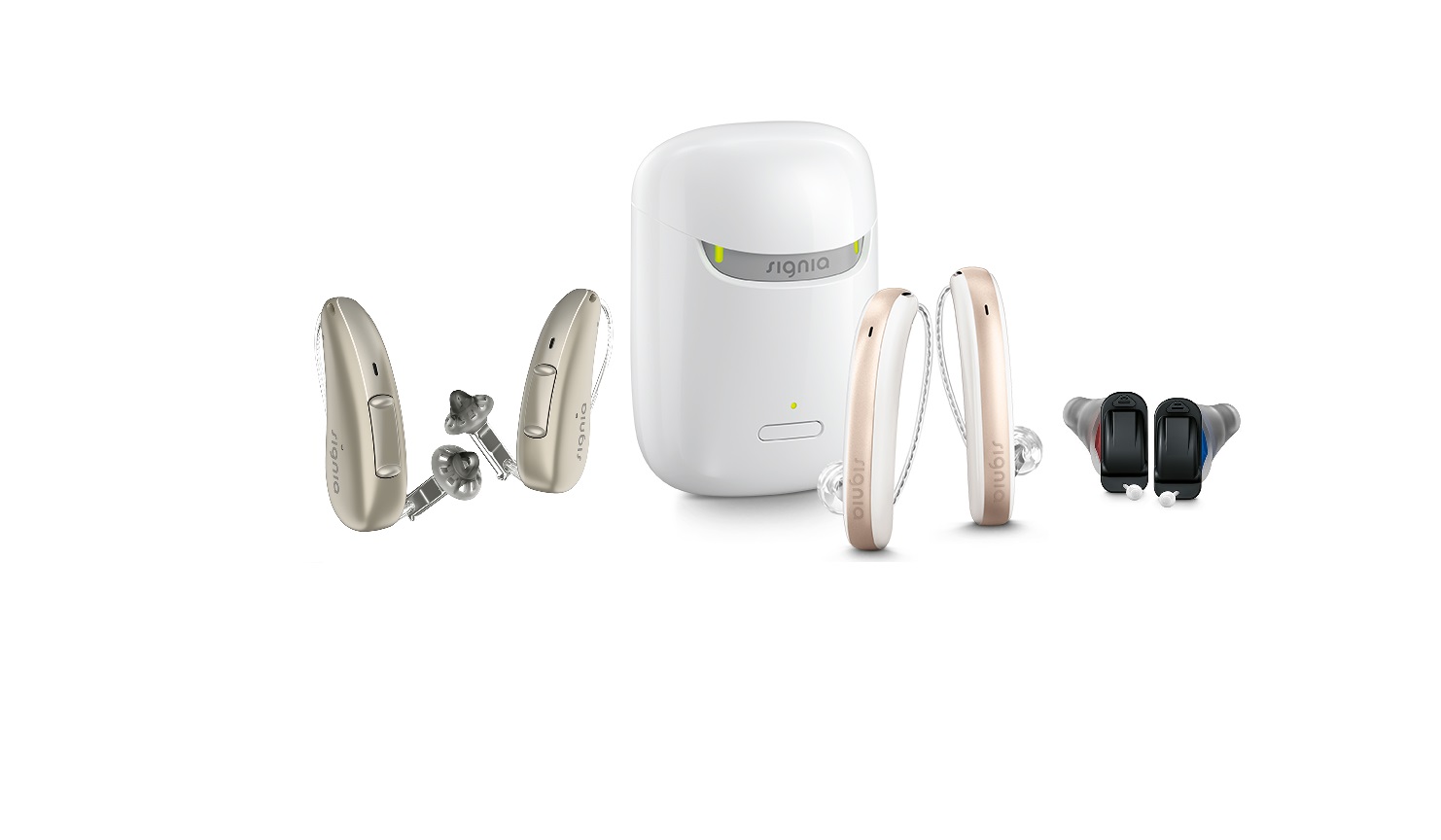 Signia Xperience™ Pure Charge and Go AX/ Pure 312 X: Augment your hearing Xperience
Signia's ground-breaking Augmented Xperience (AX) platform delivers Augmented Focus™, two separate processors that focuses on your conversation partner's voice and your surroundings. It measures more aspects of sound than ever before - and, for the first time, how the wearer's movement affects his or her hearing in every situation.

ReSound ONE: A hearing experience beyond compare
A full family of high performing hearing solutions with direct streaming from iOS and Android devices and the most advanced rechargeable hearing solution.  All this packed into a range of styles that suits all needs and preferences. ReSound ONE utilizes the full microphone range allowing sound to be processed in a cleaner way - free of distortion. Whether you are on a busy street or in a quiet theatre, conversations will be easier to focus on. Resound ONE collects sound right inside the ear to provide an individualized sound experience.  Using the M&RIE (microphone & receiver in the canal) it can deliver a more personalized listening environment in all situations.

Viron Sound simply closer to reality
Viron hearing aids offer premium technology for the most challenging listening situations. Bernafon's first True Environment Processing™ hearing aid lets users immerse themselves in the natural sound environment and experience sound which is simply closer to reality.
The perfect choice for active people looking for the maximum benefits of today's hearing system technology.

With Livio Edge AI, the power of artificial intelligence is at your fingertips, giving you never-before-possible sound performance in the most challenging listening environments. With new features such as fall detection, language transcription and transcribing and body and brain tracking, it is sure to fit easily into your lifestyle. Choose from a standard rechargeable style or the world's first custom rechargeable hearing aid and give yourself the edge you deserve!

Move beyond the words Life's best conversations happen on mobile phones too
Unitron now offers a rechargeable Made For Any Phone® hearing aid. With excellent performance in noisy environments this hearing aid can also stream directly into both iPhone® and Android™ phones and can be used as a hands free device. The cellphone's audio signal will transmit to the hearing aid and the hearing aid microphones will transmit your voice to the phone. Their new rechargeable technology ensures that the system offers the complete freedom to make and accept easily to hear mobile calls without worrying about power consumption.
Their latest offering is the Tempus™ platform, its newest ground-breaking sound processing platform that can distinguish between different types of conversation. Unitron Moxi hearing aids are available in five technology levels so they can suit all lifestyles, budgets and types of hearing loss. Tempus'™ features work together seamlessly making instant, fluid adjustments so you can participate in every conversation, no matter the situation.
Hearing Aid Funding and Leasing
Many people have private insurances that will help with their audiology or hearing aid expenses. The costs of your audiology and hearing aid services may also be applied to your medical expenses under your income taxes. We are also authorizers and vendors for the programs listed below. We are happy to help you service your existing hearing aids, provide supplies, or help you update your current audiology services and hearing aid technology. Let us know if you need any support to learn more about these programs.
Assistive Devices Program (ADP)

Ontario Disability Support Program (ODSP)/ Ontario Works (OW)

WSIB Workplace Safety and Insurance Board (WSIB)

Indigenous Services Canada (ISA)

Health Claims for Auto Insurance (HCAI)
Hearing Aid Leasing – A New Approach to Hearing Healthcare
We understand that there is no single way to manage your finances. That is why we are excited to offer you this new approach to hearing healthcare. For those individuals who prefer to manage expenses on a monthly budget rather than incur a large upfront expenditure, our exclusive Hearing Aid Leasing Program offers many advantages.
We offer a 36-month leasing option when purchasing your hearing aids. Now you can enjoy peace of mind with a single monthly payment with access to the latest hearing aid technology. No interest, low payments, best and latest hearing aid technology across all brands, 90 day trial period, highest standards in evidenced‑based audiology practice and peace of mind.
No Unexpected Costs

Our leasing program covers you for all diagnosis and follow-up appointments, hearing aid accessories and parts, hearing aid repairs, and a full warranty on your premium level device.
Latest Technology

After 36 months, your hearing aid technology will be upgraded to the newest premium technology so you'll never have to worry about replacing outdated technology.
Giving the Gift of Hearing

When you upgrade your hearing aids with us, your old devices will be refurbished and donated to a hearing aid mission to help people with hearing loss in developing countries.